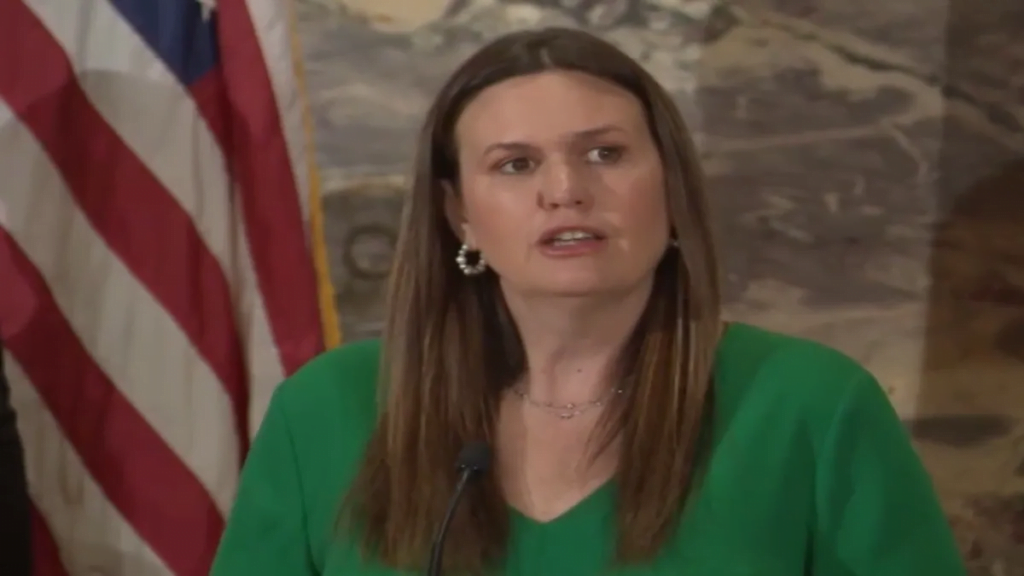 Arkansas Governor Sarah Huckabee Sanders' (R) office disclosed this week that it filed three lawsuits against TikTok and Meta for exposing children to inappropriate and damaging content.
The lawsuit alleges that the social media companies are in violation of Arkansas's Deceptive Trade Practices Act.
The act prohibits companies from "engaging in fraudulent or deceptive business practices."
The governor told Fox News Digital that Big Tech needs to be held accountable for what their platforms have done to children. These social media platforms are addictive and damaging.
"Arkansas is leading the charge on filing three lawsuits against TikTok and Meta, the owner of Facebook and Instagram," she continued. "These actions are a long time coming. We have watched over the past decade as one social media company after another has exploited our kids for profit and escaped government oversight. My administration will not tolerate that failed status quo."
Sander's office said that Meta has been "rewiring how our children think, feel and behave." Meta has also been deceptive about the "addictive nature of its products."
A lawsuit filed by Sanders' office implied that the parent company of TikTok, ByteDance, has an "abundance of posts dealing with mature themes, nudity and drugs viewed by minors despite TikTok's claims that such posts are unavailable to maintain teenager-approved ratings on various application stores."
Critics of the lawsuit might claim that parents need to keep better control over what their children are accessing online, but that seems impossible.
What are they doing at friends' houses or even at school? It's so difficult to shield young kids from the trash that's on the internet.
The Chinese version of TikTok is very different from the American version and has much stricter rules for younger users.
"China is a foreign adversary that is targeting our children through social media in a serious challenge to American values," the governor's office stated. "China is also threatening our nation's security and our citizens' privacy by leveraging information technologies like TikTok against the United States."
The videos that Chinese children can access are geared more toward education and learning, the opposite of what American children are viewing.
According to Forbes:
"Arkansas Attorney General Tim Griffin (R) filed one lawsuit in state court against Meta and two separate cases against both TikTok and its China-based parent company ByteDance, according to an announcement Tuesday, alleging all three companies have violated the state's Deceptive Trade Practices Act.

"The lawsuit against Meta—parent company to Facebook and Instagram—claims the company 'knowingly' designed its social media apps to "create addiction" for its younger users, including the use of a 'like' button that will trigger 'the release of dopamine.'

"The first lawsuit against TikTok and ByteDance alleges both companies have created an algorithm that promotes explicit content to minors—which the state says 'can and does influence their behavior, causing significant harm.'"
It's time to protect the children in this country. Attacks are coming from every direction. Parents' heads need to be on a swivel.
What are they learning in school? What are they seeing online? It makes one long for simpler times.