If confirmed, the Navy's vice chief will break multiple glass ceilings as a woman to reach the most senior ranks of the Pentagon.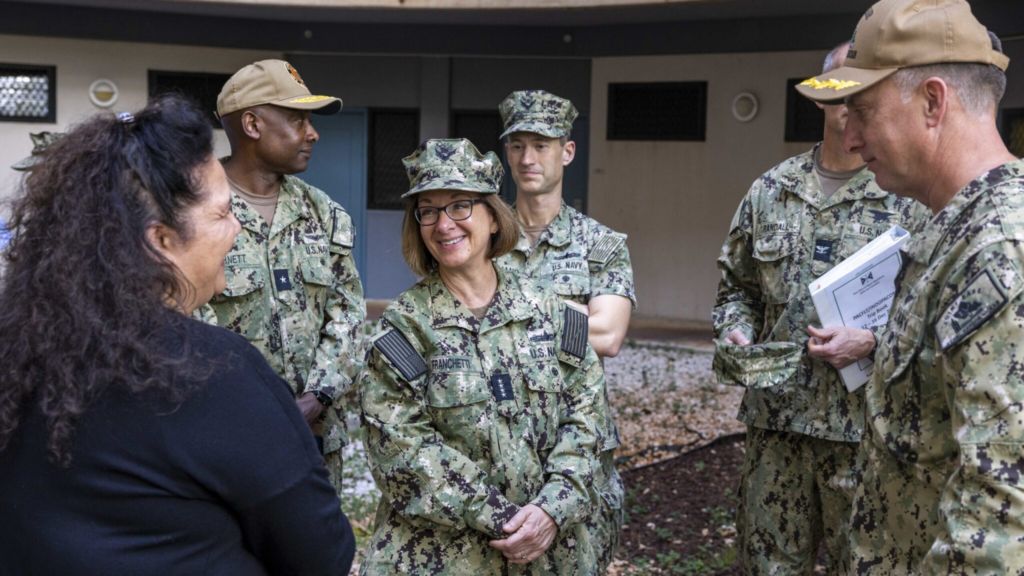 President Joe Biden has formally nominated Vice Chief of Naval Operations Adm. Lisa Franchetti to be the next chief of naval operations, making her potentially the first woman to serve on the Joint Chiefs of Staff.
Franchetti, a career surface warfare officer who the White House said has "extensive operational and policy experience," is only the second woman to be the Navy's vice chief, behind now-retired Adm. Michelle Howard. If confirmed, she will be the first woman to serve as chief of naval operations as well as the first on the Joint Chiefs of Staff. (Adm. Linda Fagan, commandant of the Coast Guard, became the first woman to lead a branch of the military in June 2022, but that service operates under the Department of Homeland Security rather than the Defense Department.)
In a March interview, Franchetti, a native of Rochester, N.Y., described some of the tribulations she's undergone as a woman in the Navy. She specifically alluded to one instance where her ship's commanding officer bluntly told her he didn't want her aboard.
After making flag officer, she served as the one-star commander of US Naval Forces Korea. In this role, she was a "pioneer," according to James Foggo, a retired four-star Navy admiral.
"That was pioneering for her in a culture that doesn't necessarily sit down between military officers and senior female officers of allies and partners often," he told Breaking Defense.
Franchetti was later tapped to lead the Italy-based US 6th Fleet, a post Foggo himself had previously held and would later oversee when he became the four-star admiral in charge of US Naval Forces Europe.
Foggo described the numerous challenges at the Defense Department's bases overseas after the coronavirus started gaining traction in 2020. At that time, Foggo brought together the various senior officers he oversaw, including Franchetti, to do regular town halls for sailors and their families about the pandemic.
"To this day when I talk to my flag officers" who were there, he said, "they all remember the cohesiveness that we had as a flag wardroom. That doesn't happen if you have a flag officer that's the odd man out or odd woman out. We were cohesive and we kept it together, and Lisa was a big part of keeping the wardroom together."
Harry Harris, the former US Pacific Command chief and ambassador to South Korea, told Breaking Defense Franchetti's operational experience, which includes leading destroyer squadrons and carrier strike groups, gives her all the "operational bona fides" to lead the Navy.
"She has [also] held those key Pentagon jobs that would prepare her to do battle in Washington," he said, citing her time as a deputy CNO, a director for strategy on the Joint Staff and a senior aide to the Navy secretary.
"I'd say, without equivocation, there's no one better prepared to be the 33rd CNO," he added.
In addition to Franchetti, the White House also announced the nomination of Vice Adm. James Kilby to become the next VCNO; Adm. Samuel Paparo to become the commander of US Indo-Pacific Command and Vice Adm. Stephen Koehler to become commander of US Pacific Fleet.
Shortly following the White House's announcement, Defense Secretary Lloyd Austin in a written statement said the four nominees collectively "represent the best of the United States Navy."
"Together, these four highly decorated naval officers have extensive operational and command experience. Indeed, I have seen firsthand how these highly-qualified officers have contributed to our national security," he said. "And I'm very proud that Admiral Franchetti has been nominated to be the first woman Chief of Naval Operations and member of the Joint Chiefs of Staff, where she will continue to inspire all of us."
Soruce: https://breakingdefense.com/2023/07/biden-taps-a-pioneer-adm-lisa-franchetti-to-become-navys-next-leader/