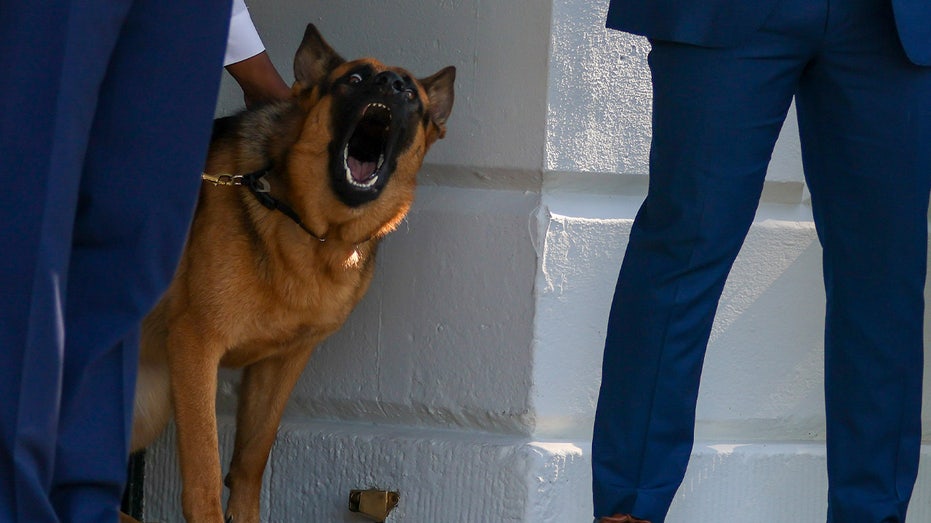 Commander, the dog belonging to President Biden, has been removed from the White House, officials. said. The first dog's removal comes after multiple biting incidents.
President Biden's dog, Commander, has been removed from the White House campus, amid multiple biting incidents and aggressive behavior.
"The President and First Lady care deeply about the safety of those who work at the White House and those who protect them every day," Elizabeth Alexander, communications director for the First Lady Jill Biden, told Fox News.
"They remain grateful for the patience and support of the U.S. Secret Service and all involved, as they continue to work through solutions," Alexander added. "Commander is not presently on the White House campus while next steps are evaluated."
Most recently, Commander, a German shepherd, bit a Secret Service agent on White House grounds last month.
This incident marks the 11th known incident of Commander biting White House or Secret Service personnel. Conservative legal activist group Judicial Watch previously obtained reports of the 10 previous incidents of Commander terrorizing staff from October 2022 through January 2023.
CNN reported Wednesday there were more biting incidents that went unreported.
Internal Secret Service communications reported over the summer by the New York Post said one serious incident led to the White House physician's office referring a Secret Service officer to the hospital for treatment on Nov. 3, 2022, after the officer was bitten by the dog on the thigh and arm.
A report by the Daily Mail said Commander bit a White House staffer, White House grounds superintendent Dale Haney, weeks ago. Hale said the dog was just being playful and that there was no bite and no pressure of teeth on his skin, Alexander told Fox News.
No marks were left, only some dog slobber, he said.
On Wednesday, when asked if whether Biden was concerned about being sued over the dog's misbehavior, White Press Secretary Karine Jean-Pierre referred Fox News to the Secret Service or first lady's office.
Commander's arrival at the White House comes after the Biden's got rid of their prior dog, Major, who also behaved aggressively, including biting Secret Service and White House staff.
They eventually sent the dog, also a German shepherd, to live with friends in Delaware.